---
7月30日(日)から8月5日(土)にかけてオーストラリアグローバルリーダー研修を実施中です。この記事では現地からの様子をお届けします。

---
8月4日(金)〜8月5日(土)
この日はいよいよメルボルン最終日です。今日は一日メルボルンを観光します。
朝は5日間お世話になったホストファミリーとのお別れからスタートです。代表生徒のGood bye speechで感謝の気持ちを伝え、その後も各々ホストファミリーの皆さんとお別れの挨拶をしました。
ホストファミリーと(1)

ホストファミリーと(2)
その後はバスに乗り込みメルボルン市内の名所を回ります。セントパトリック大聖堂からキャプテンクックの小屋を見てまわり、ビクトリアマーケット(市場)で昼食です。生徒たちは英語で難なく注文して好きなランチを食べていました。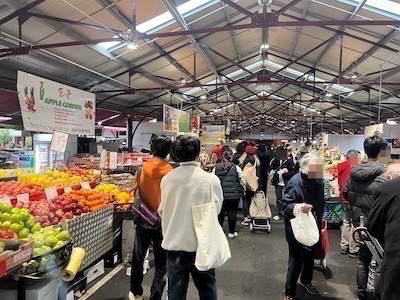 セントパトリック大聖堂(1)

セントパトリック大聖堂(2)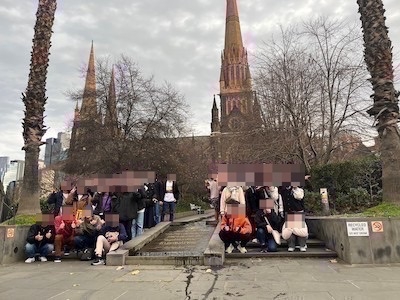 午後はビクトリア国立美術館、そして戦争慰霊碑を見学し、世界で最も美しい図書館と言われるビクトリア州立図書館へ。生徒もたくさん写真を撮っていました。
ビクトリア国立美術館

ビクトリア国立美術館
戦争慰霊碑

戦争慰霊碑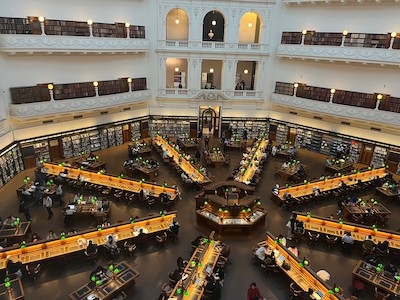 夕食はモールで各自食事です。初日の昼食もモールでしたが、その時よりも堂々と、自信を持って注文できているでしょうか?
そのあとは空港に向かいます。生徒一人ひとりにとって、忘れられない体験になることを願って、この記事の更新を終わります。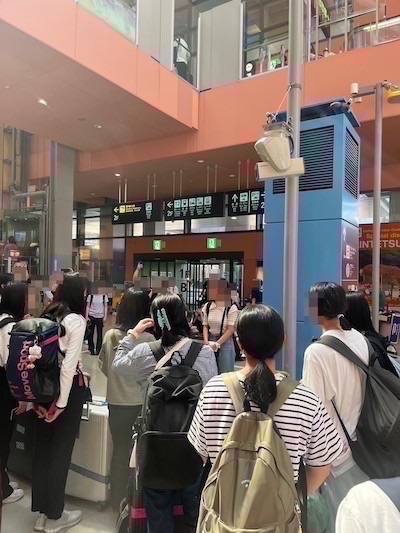 〜生徒の日記より〜
8/4
Today was the last day I could stay in Australia after saying goodbye to our host families.
I promised them that I would study Englishmore and then return to Melbourne.
I found that Melbourne is very nice place.
And then we went to Queens Victoria Market.
A lot of cute goods were sold there.
We had lunch there and then went to museum and church.Everyone I met was kind and I was very impressed.The store clerk helped me when I didn't know how to pay.
Thank you for giving me such a wonderful experiences. (Y)
Today, we went to many famous places in Australia, such as "St Patrick's Cathedral", "National Gallery Of Victoria",  "Shrine off Remembrance Visitor Centre",  "Stare Library of Victoria".  The place that impressed me the most is "Queen Victoria Market"!   It has been held since 1878, and there are more than 600 stores.  It is also said to be the largess market in the Southern Hemisphere.  I did my best to talk to various people, because the local guide advised me, "Try to talk actively by yourself."  At fist I was nervous, but the people in the Melbourne market were so friendly that I was able to have a fun conversation.  Moreover, I was also surprised at the difference in the clerk's greetings.  In Japan, clerks said to customers, "Irrasshaimase! / Arigato gozaimashita".  However, in Australia, "Hi, how are you? / Have a nice day!".  Customers don't have to answer anything to that question in Japan, but it's better for customers to answer that question in Australia.  I found this difference interesting.
    I won't forget these experiences today. (S)
8/5
Finally, I went back to Japan. I think this training is too short. But I could learn many things and talked with host family. These experiences are so valuable.
After long flight, my mother waited for me at Kansai International Airport. I felt happy when I saw her face. I ate miso soup at dinner and it made me nostalgic.
I told my family about the memories in Australia. But I couldn't choose the best. Because this training is so fun that I can't forget all of memories and experiences.
I thank for my family, teachers, and all of people who were concerned with me at Australia. Thank you so much. (K)
Since our flight of Melbourne to Hongknog has delayed, we left Melbourne later than we had expected. We could see beautiful Melbourne with city lights at night. We achieved many things in this one week, and met various of people who were really kind and cheerful to us. We miss them a lot, I guess many of us felt sad to leave Melbourne. We spend this night in flight thinking back the days in Melbourne.
The transit time in Hong Kong was such a rush, but we could manage to get on the flight to flew to Japan.
Finally, we were home, it was the priceless journey that make our lives so much better. (T)
研修全体を終えて
It was my first time to go abroad and to stay overnight on the plane.
The event that I felt the biggest impression on me was I learned a Japanese song from Australian.
We visited Lalor North Secondary Collage and took part in a music class.
The students of that school sang us a Japanese song called sukiyaki in English. To my surprise, I didn't know that song!
I heard that it was a very famous Japanese song in the world. Now I can sing this song! And I thought in order to learn about and interact with other country's people, it is first necessary to learn well about our own country's culture. (M)
I have learned a lot of things from this program.
The most important thing I felt is to try anything. My first challenge was to take a test and write a composition to participate in this program. I'm not good at English,so I never thought I would pass.After that, I have studied English harder. Passing the exam was very big motivation for me to study English. Before I go to Australia,my goal was to talk anyway. But I arrived in Australia, native English speakers were too fast to listen ,also I wasn't configent in my English and couldn't speak. I thought I couldn't improve my English skills and I tried to talk a lot. Then I could understand what they are talking about and my English was gradually understood !!. I was very surprised and happy!
From this experience, it's the most important to try anything. I thought the results will follow later.
This program has become a big part of my life!
Thank you so much for everyone who supported this program! (Y)
---
8月3日(木)
今日はロイヤルメルボルン工科大学(RMIT)にて研修を行いました。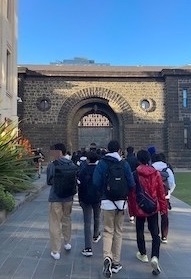 STEM教育を専門に扱っているアカデミックグループの方による実験形式の講義でした。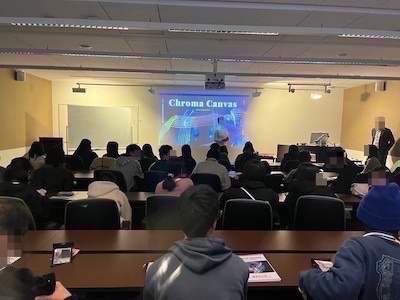 電気回路を繋げてダイオードを光らせ、最後にはそれを用いてアート写真を撮影するというプログラムでした。英語での講義・実習は難しかったですが、先生方に手伝って頂きながらみんなダイオードを光らせることができました。
実習の様子(1)


実習の様子(2)
ダイオードをうちわ状に繋いだものを作成し、最後の写真撮影セッションで使いました。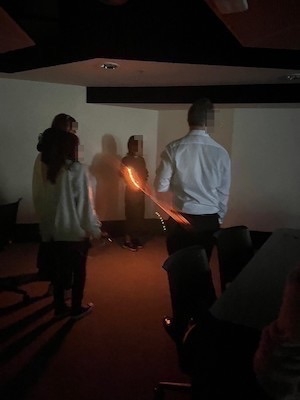 昼食後はキャンパスツアーに参加しました。日本とは規模の全く違うキャンパスと充実した施設に驚きました。講義を受けた建物の近くだけでも100棟近くの大学施設があり、街全体がキャンパスのようでした。

昼食の様子

キャンパスツアー(1)

キャンパスツアー(2)
研修も明日でいよいよ最終日です。明日はメルボルン市内を観光したのち、日本時間19時ごろにメルボルンを発ちます。
〜生徒の日記より〜
Today's breakfast was very delicious jam donuts. This donut is popular in Australia. So, I thought that it was a lucky day because I could eat the donut that I wanted to eat before.
After I ate breakfast, I went to RMIT university.  I learned electronics there.  This program's goal was making the LED fan.  First, I couldn't understand an explanation and assembled it.  But while listening to the explanation, I was able to gradually understand the word expressed it.  Finally, I could made the LED fan.  I was very happy.  Also, tonight was a last day that I spent a time with my host family.  So, I went to dinner and the Lume exhibition.  There were Aboriginal exhibition I am grateful to my hast family.. for giving me the opportunity to know about Aboriginal people. (N)
  Today, We went to the RMIT.  We learned  Micro Electronics and made fans. It was so difficult for me to make a fan, but my friend helped me.  And above all, today's lunch was so wonderful for us! We ate many pizzas, chickens and sweets.  Everyone looked so happy.  After todays activity, I went to the big shopping mall, and there, I bought souvenires for my family.  It was so wonderful time.   Also, today was the last day we can spend the night with our host families.  I talked with my host mother for about one hour after dinner.  She told me the story about LGBT at tonight.  It was so interesting.  Today was a good day as well. (K)
---
8月2日(水)
研修も折り返しを迎えました。体調不良等なく全員元気に過ごしております。
今日は昨日と研修先が入れ替わり、グループAがFocus Language School、グループBがLalor North Secondary Collegeで交流・研修を行っています。
以下は昨日8月1日(火)のグループBのFocus Language Schoolでの様子です。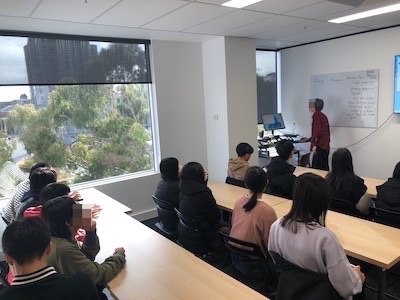 Focus Language School はメルボルンの中心部、世界遺産にもなっているカールトン庭園からすぐ近くにあります。8月3日に全員で訪問するロイヤルメルボルン工科大学とは隣接する位置です。
午前はオーストラリアの地理、特有の言い回し(Aussie English)、動植物などについてアクティビティを通して学びました。
研修の様子(2)

Tea Break
午後はFocus Language School の先生とともにカールトン庭園内にあるメルボルン博物館を見学しました。
メルボルン博物館は南半球で最大の博物館で、全てをしっかりと見て回るのには研修の全日程を要するほどの展示があります。今回は午後の研修時間内という限られた訪問時間でしたので、将来メルボルンを再び訪れた際にゆっくりと見に行きたいという声もありました。
カールトン庭園(1)

カールトン庭園(2)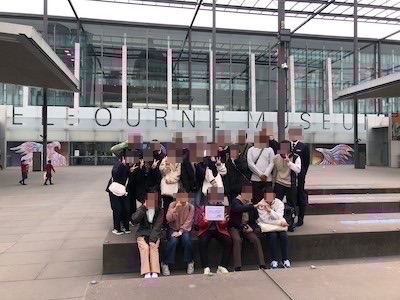 明日は40人全員でロイヤルメルボルン工科大学(RMIT)にて研修を行います。
〜生徒の日記より〜
Today, I went to Focus Language School in the urban area of Melbourne. There I learned about Australian nature and sightseeing spots like platypus, Uluru and so on. There was full of things I didn't know.
In the afternoon, I enjoyed seeing exhibits about Aboriginal and Australian history and buying souvenirs at the Melbourne Museum.
After all the programs, I went home and made apple crumble with my little friend, a 2-year-old girl who is a member of my host family. She is our healing. After having dinner, my host father took me to the botanical garden. It was a very beautiful place where the light and nature outside fused. My host family is really good to us.
It's very sad to leave Australia in a few days, but I want everything to be a good experience for me. (W)
I was able to find something interesting in the town. Flinders Street station was magnificent. Street art was fun to watch, and I thought the person marks of traffic signal had more toned body than Japanese ones. The food that we had at Focus Language School was delicious. I thought I can eat a lot of bread and fruit and snacks in Australia. I cannot stop overeating… And we visited Melbourne Museum. It was wonderful. But we had only one hour to look around. We wanted more than half a day. The dinosaur skeleton was surprising. (T)
---
8月1日(火)
 今日からいよいよ研修本編が始まります。
 今日と明日は20人ずつ2グループに分かれて行動します。今日はグループAが現地校(Lalor North Secondary College)との交流、グループBがFocus Language Schoolでの研修を行いました。(明日はグループA/Bで行程が入れ替わります。)
 以下はグループAのLalor North Secondary Collegeでの活動の様子です。
オリエンテーション

1限 Aussie English Lesson
 1限目はAussie English を用いたフィールドワークです。
 Aussie English (オーストラリア英語)は綴りこそイギリス英語を基調としていますが、発音やアクセントは少々(?)異なる部分があります。語彙の面でも、"Hello"に相当する "G'day" (カタカナ表記するのであれば「グダイ」に近い発音)など、独特な言い回しが見られます。一説には口に砂が入らないように、口を大きく開かなくてもよい言い回しに変化したそうです。
2限 調理実習(1)

2限 調理実習(2)
 2限目はレモンマートルビスケットの調理実習をLalor Northの生徒と共に行いました。難しい単語で書かれた科学論文を授業で読むことも多い大手前生ですが、「小麦粉」や「ふるい」といった日常生活の中の語が難しく苦戦していたようです。出来上がったビスケットはお土産として持ち帰らせていただきました。
3限 音楽の授業(1)

3限 音楽の授業(2)
 3限目は音楽の授業でした。『上を向いて歩こう』を一緒に歌ったり、即興でバンド演奏を体験させていただきました。
Tea Breakの様子

昼食の様子
 昼食を挟み、Lalor Northの生徒とともにレクリエーション。ジムで卓球やバレーボールをしたり、教室でゲームを行ったりしました。
レクリエーションの様子
 その後、いよいよ大手前生による発表の時間です。「SDGs × [ ] 」をテーマに4人ごとのグループに分かれて交流を行いました。写真は「SDGs × [江戸時代] 」をテーマに発表している班と 「SDGs × [大手前] 」をテーマに発表している班の様子です。SDGs × [大手前]の班はこの発表のために大手前高校の冬の制服をメルボルンに持って行きました。
SDGs × [江戸時代]

SDGs × [大手前]
 1日ではありましたが、この交流に向けてLalor Northの生徒達や先生方がたくさんの準備をしてくださっており、忘れられない経験となりました。
 明日はFocus Language Schoolでの様子をお伝えします。本日写真に写っていないBグループも含め、全員元気に過ごしています。
〜生徒の日記より〜
Last night, I was able to sleep deeply. Today morning, we had a lot of and very delicious breakfast. So, I was late for meeting point. I'm so sorry. Today's program was to visit Lalor North. First of all, we were taught Australian English and living things. Then, we had to talk with the students there in English. I wasn't able to speak perfectly, but they tried to understand me. I'm happy to talk with them. Next, we were cooking, singing, and dancing. Especially, dancing was very excited. Australian are not shy like Japanese. So, they wanted to dance in front of a crowd. The dancing was heating up. Finally, we had a presentation. I was a little nervous to speak English to native English speakers. But, they praised us for our English and presentation. Today I was able to talk with people in English and became friends with them. I miss them and never forget! (Y)
My morning started at delicious English breakfast. After I ate breakfast, we went to Lalor North Secondary College. It is a local high school. Our interaction started at Australia's English. Their usage and pronounce is a little bit different. For example, when we say "good" they say "not bad" and they say "today" just sound "to die." I was very surprised and thought interesting. After that, we made traditional Australia cookies and danced, played music and so on. It was the first time I played drum. Drum is very difficult for me but I was very fun. I think the music doesn't have borders. In the rest time, we enjoyed playing table tennis. Today is very fantastic. (N)
---
7月31日(月)
 定刻通りにメルボルン空港に到着。スーツケース受け取り、検疫へと進みます。トラブルもなくスムーズにオーストラリアへの入国が完了しました。その後、バスにてメルボルンの中心部へ。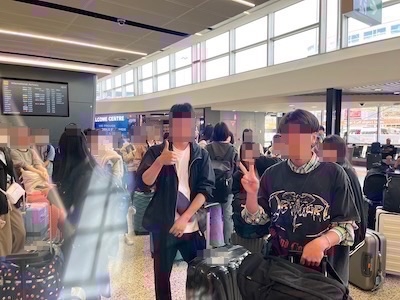 今日の昼食はフードコートにて自由食です。自分のご飯は自分で英語で注文します。ちょっとしたことかもしれませんが、生きるために英語を使う初めての機会となった生徒もいました。
フードコートにて(1)

フードコートにて(2)
 昼食後は再びバスで移動し、ホストファミリーとの対面式へ。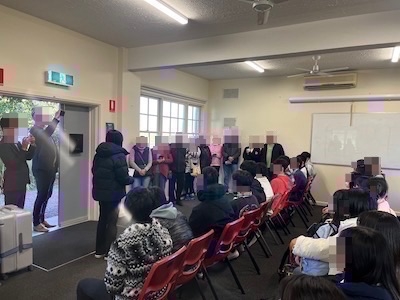 代表生徒によるホストファミリーへの挨拶スピーチののち、各家庭へと向かいました。本日より最終日まで宿泊はすべてホームステイです。
〜生徒の日記より〜

Finally, we arrived In Australia. It's winter in Australia, so we weared something warm and went out. The temperature was 16°C, so it was comfortable. We got a bus to have lunch. We enjoyed looking at the cityscape in the bus. There were not only old buildings but also skyscrapers. At the food court, there were many shops to choose: It was difficult to order to order, but we did It. Afterward we matched with host familles. At first. I was little nervous, but I started to look forward to it when I saw how kind they are. (F)
We have arrived in Australia! Melbourne is a very nice town. There were many old buildings, for example church. We went to Melbourne Central to have lunch. Ordering in English was difficult. But it was enjoyable. Next, we met host families. Actually I was a little nervous. But my host family is very kind. I became more excited with this trip! I want to have good relationships with my host family.(H)
---
7月30日(日)
2019年以来4年ぶりとなる大手前高校海外研修がいよいよスタートしました。本年度はオーストラリアグローバルリーダー研修として40名の生徒がメルボルンに向かいます。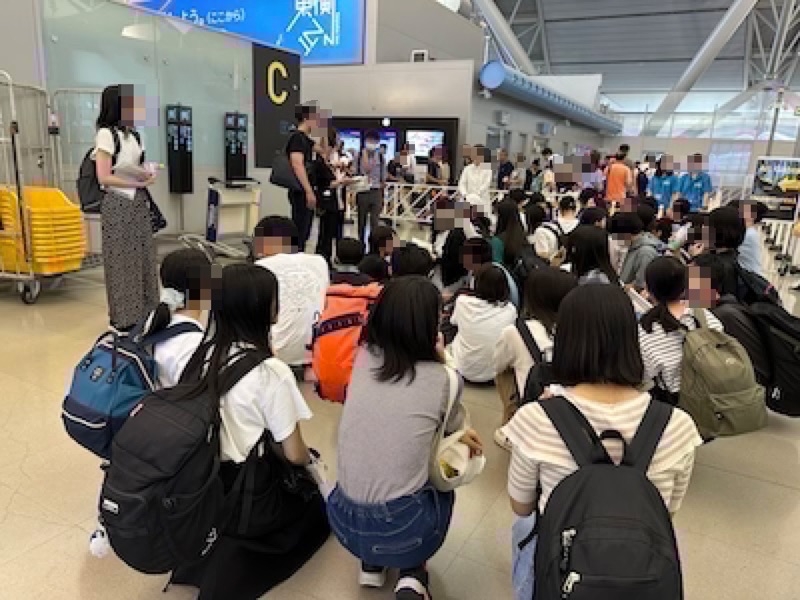 23時半ごろ、定刻通り香港国際空港にて乗り継ぎを行い、メルボルンへ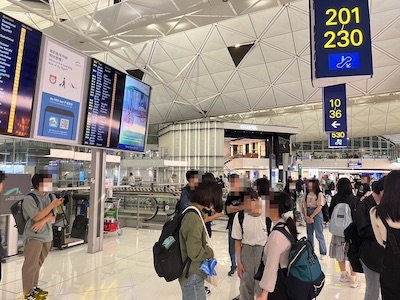 〜生徒の日記より〜
On the first day, we met at 3:00 p.m. and boarded the plane to Hong Kong at 6:30 p.m.. We had two choices of in-flight meals, seafood and chicken, and I chose the chicken. I remember the potatoes were quite tasty. After that, I relaxed, read a book, and gradually became sleepy, so I fell in sleep. When I woke up, we had arrived in Hong Kong. In Hong Kong, I had an hour of free time to explore the city, but only at the airport. I had no Hong Kong dollars, so I could not do any shopping, but I could feel a foreign country by reading the words on the billboards. It was a very good experience. And by the time I got on the plane, July 30 was over.(M)
This is the first day of our program in Australia. We have been looking forward to this day. Some of us have never been abroad or even got on plane, so we feel a little nervous when we check in ourselves. We have a good time on plane like enjoying movies talking with friends and having a meal. The meal was great. We have chicken or seafood. We were supposed to change planes in Hong Kong so we could see beautiful night view of Taiwan and Hong Kong through windows.(K)